in collaboration with Malaysian Medical Association
HealthPrez - MMA Learning Portal
By Doctors. For Doctors.
Close
Please note that this page is meant ONLY for Malaysian Doctors with a valid Medical Registration Number.
Welcome Note From The President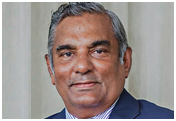 On behalf of the Malaysian Medical Association (MMA), I am excited to announce that MMA has newly collaborated with HealthPrez-MMA.com to provide a new online CPD platform "by doctors, for doctors".
HealthPrez with MMA have established a team of expert Malaysian Medical specialists from varying disciplines to provide engaging and up to date CPD content catered for Malaysian doctors nationwide on a user friendly and intuitive platform that's accessible via your desktop and smart devices. Further, this new portal also allows doctors nationwide to engage with the Medical Specialist Panel by posting questions or medical conundrums for the experts to review and comment on.
We truly understand the need for our doctors to be supported professionally, thus, rest assured of our distinguished role as a CME provider for the healthcare profession remains our primary focus and delivered promise. CPD credits earned after successful completion of online courses will be uploaded into the MMA CPD Records instantaneously, so prepare yourself to be challenged and happy learning.
Dr Mohammad Namazie Ibrahim, President, Malaysian Medical Association
Acute limp in a 6-year-old
CPD Activity (1.0 credit)
Rheumatology | Pediatrics | Family Medicine
Hospital Selayang
Non Allergic Angioedema. A brief review.
CPD Activity (1.0 credit)
Allergy & Clinical Immunology | Pediatrics | Family Medicine
HealthPrez-MMA CPD Committee
Transforming Ovarian Cancer Care Together - Part 1
CPD Activity (1.0 credit)
Oncology | Family Medicine
Astra Zeneca
About HealthPrez
HealthPrez-MMA.com is a versatile, powerful, yet simple cloud-based e-learning solution designed to educate healthcare professionals with a range of online CPD modules that provide up to date, evidence-based training, helping doctors excel in their careers.

About CPD Credits
Get In Touch